About us
Founded in 1924, the Federal Association of German Amateur Orchestras (BDLO) is the world's largest and oldest association of symphonic and chamber orchestras. Today, the BDLO is made up of more than 800 amateur orchestras and chamber music ensembles, thus gathering almost 32,000 amateur musicians of all ages. The majority of the members are autonomously organised orchestras, others are run and sponsored by institutions such as universities and music schools.
Membership Benefits
:
- Unlimited access to BDLO's well stocked sheet music library

- Reduction of fees to be paid to the German Society for Musical Performing and Mechanical Reproduction Rights (GEMA)

- Preferential rates to liability and musical instruments insurances

- Courses and seminars on music related issues

- Advisory support in orchestral matters

- Opportunity for information and presentation on BDLO's internet platform as well as in the association's journal DAS LIEBHABERORCHESTER

Interested in becoming a member? – For more information please go to "Membership".
Subscribe to our newsletter
We will inform you about projects, concerts, courses, etc.
The BDLO is supported on project basis by the Federal Government Commissioner for Culture and the Media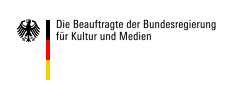 as well as by the Federal Ministry of Family Affairs, Senior Citizens, Women and Youth.
The BDLO collaborates closely with the Sächsischer Musikrat e.V. in a joint office.
We are member of the German Music Council (DMR), of the Federation of German Orchestra Associations (BDO), of the Federal Academy for the Musical Education of Youth (BmJ) and founding member of the World Federation of Amateur Orchestras (WFAO).